This is a guest post, kindly written by Blaze Ann Carbonell, from P31Beauty. Today, Blaze Ann is sharing 6 amazing tips on saving money effectively in college.
If you're struggling to save money in college or university, she's got you covered. I know I can use some of these great tips when it comes to money management!
Keep reading the post!
---
Out of all the challenges associated with college, a common one that many students face is saving money.
College is an exciting time when students experience a new sense of independence, which includes the ability to hang out with friends, eat out, and shop without their parents monitoring. The problem is that students don't have a career yet, so money can get tight!
In this post, I will be sharing some of the best tools and websites that will help you save money in college. These tips will save you tons of money while you're getting groceries, shopping for clothes, eating out, and more!
Here is the ultimate guide to saving money in college:
Oh, hey! You there! Before we get any further, make sure you join my email list for news, updates, exclusive freebies and more!
1. Download your mobile banking app.
The first step to start saving money is being aware of your expenses! Use your mobile banking app to get an idea of what you've been spending money on, and figure out whether those purchases were necessary. Ask yourself, "Have I been spending too much in one particular category?" 
In college, I had a tendency to eat out a lot, which is where the majority of my money ended up going. After figuring this out, I decided to cook more and eat out less to save money. I encourage you to identify the areas you've been putting too much money in and brainstorm some ways to limit spending in those areas.
2. Create a budget spreadsheet to document your expenses.
Now that you have a plan for how you're going to limit your expenses, you need to hold yourself accountable! Create a budget spreadsheet to document your expenses for each month. I recommend that you set a monthly budget for yourself and divide how much you want to spend on different categories.
For example, if you have a total budget of $100 a month, you could assign $50 for food, $30 for school-related items, and $20 for other purchases. Taking note of each time you buy something will help you monitor if you're hitting those goals or going over budget. 
I have my personal budget spreadsheet set up on Google Sheets, but you could also use Microsoft Excel. As you can see, on the left I have information about my expenses. On the right, I listed the categories and budget goals, as well as the running total of my expenses. Click here to download this free budget spreadsheet template!
3. Take advantage of sweet deals and student discounts.
There is nothing more satisfying than your discount code being accepted during online shopping, am I right? I am about to let you in on some amazing websites that offer the best discounts. These are great ways you can save money in college!
Honey
Honey is a free Google Chrome extension that generates coupon codes for online stores. With the click of a button, it will automatically apply the code to your shopping cart so that you can instantly get the deal! Honey is definitely a money and time saver because you no longer have to waste time searching for discounts on the internet. Click here to add Honey to your browser!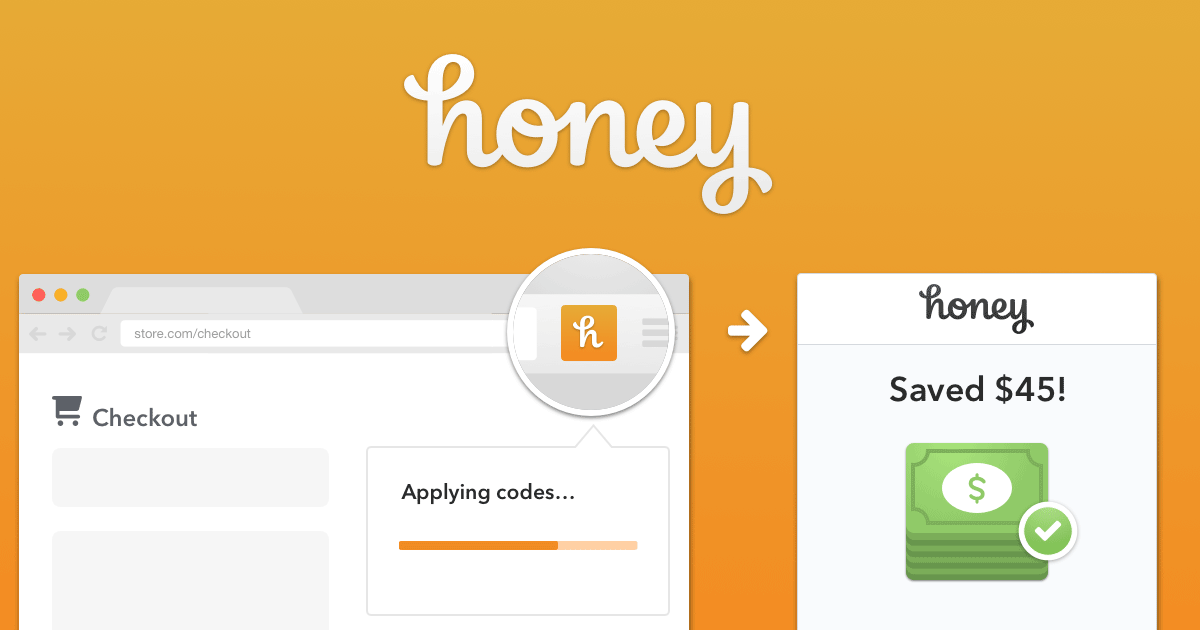 UNiDAYS
Every college student needs to check out this website. Why? UNiDAYS offers students FREE online and in-store discount codes for a variety of stores such as Nike, Kate Spade, ASOS, H&M, and more!
They not only offer discounts for clothing stores but also for technology, beauty, food and drink, health and fitness, and athletic stores. Almost every well-known store is supported by UNiDAYS, so I recommend checking for codes on their website before shopping.
To get these discounts, all you have to do is verify that you are a student at your university. Click here to join UNiDAYS!
Groupon
Groupon is another website that gives discounts and deals for your local businesses, attractions, and restaurants. The way it works is that businesses advertise a limited time deal. If you are interested, you purchase it through Groupon and then show the business your receipt. For example, I purchased a deal where I got 3 eyebrow threading sessions for only $22! The best thing is that it is free to sign up for Groupon.
This website is great for college students that want to save money when going out with friends, visiting tourist attractions, or even going to the salon. Click here to sign up for Groupon!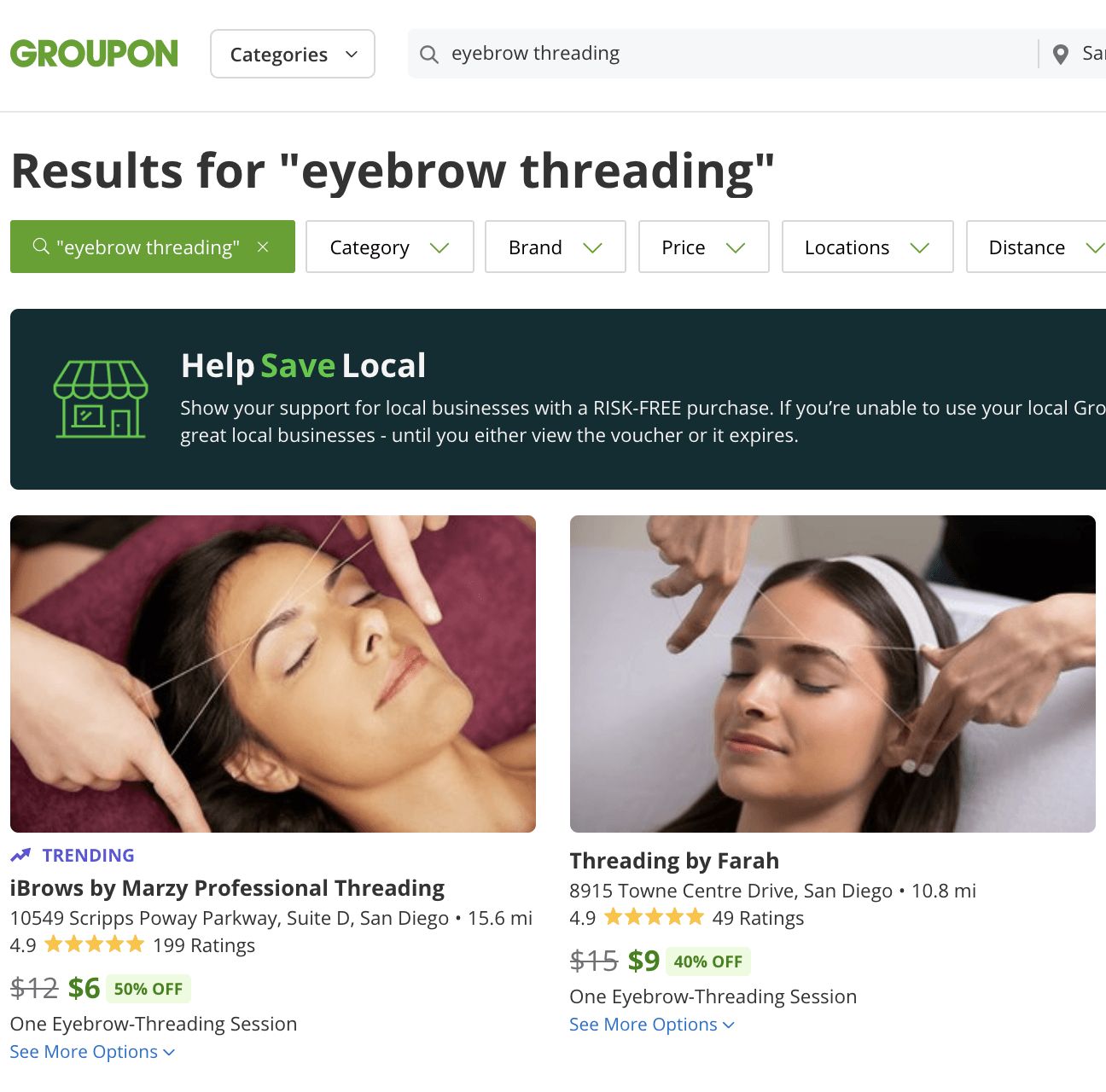 Amazon Prime Student
Students that live on campus may not have a car, which makes it inconvenient when they have to go to the store for last-minute essentials. Most colleges now have Amazon stores or hubs located on campus where you can pick up whatever you've purchased.
With Amazon Prime Student, you can have your items delivered to your college in up to two days with free shipping! Instead of taking the bus or spending money on an Uber to go to the store, Prime Student is more cost and time effective.
What's great is that Amazon is offering students 6 months of Prime Student for free! This membership also gives you access to Prime video and exclusive discounts for students. Click here to get Amazon Prime Student!

4. Use cashback websites and apps.
Another way that college students can save money is by using cashback websites and apps. Most people are hesitant to use them, but I promise that the ones below are safe and legit! Keep reading to find out how they work.
I'm stuck between 'I need to save money' and 'You only live once'. Click To Tweet
Rakuten
Rakuten, formerly known as Ebates, will give you back a percentage of the total amount you spend in an online store. Yup, they're literally paying you to shop, and it's free to join!
Just like Honey, Rakuten has a Chrome extension that tells you how much percent they're offering for a website and allows you to activate cashback. For example, when shopping at Ted Baker, Rakuten offers you 7% cashback of your entire total. This cashback goes straight to your card or Paypal!
One of the things I love about Rakuten is that it offers cashback for a huge variety of stores. Most of the time, you can combine your cashback deals with Honey and Unidays discounts, which saves you a lot of money. Click here to join Rakuten! 
Ibotta
Ibotta is a free cash back app that you can use for your favourite grocery and retail stores. Some of these stores include Walmart, Target, Walgreens, CVS, and more!
>> RELATED POST: 8 Game-Changing Apps That You Need To Ace Your GCSEs
What makes Ibotta unique from Rakuten is that you don't get a percent cashback of your entire total. Ibotta's cashback deals only apply to specific items purchased from the store.
In addition, most Ibotta deals are limited-time offers. To get cashback, scan the barcode at the end of your receipt so that the app can verify if any deals apply. Click here to download Ibotta!
5. Be resourceful.
When you're trying to save money, it's important to be proactive about ways that you can stay resourceful in all aspects of your life. Here are a few things that I did in college to save money and highly recommend everyone to consider doing:
Buy groceries and house supplies in bulk and split the cost with roommates.

Purchase a water filter so that you don't have to constantly restock on bottled water from the store. This is also a great way to help the environment!

Use public transportation instead of rideshares.

Buy used items locally if you need things like furniture, textbooks, or supplies.
6. Get a part-time job.
If you're able to, I encourage you to get a part-time job to earn money on the side. Having some type of income will help you save money in the long run, and you won't have to rely on your parents for all of your finances.
It always feels good to have a sense of financial independence! I actually wrote a post on how to apply for an undergraduate research position. These tips can also relate to other on-campus part-time jobs. Click here to check out the post!
Conclusion on The Ultimate Guide to Saving Money In College
Although saving money can be a challenge in college, it is possible! As you can see, it takes both creativity and being resourceful to get the job done.
If you enjoyed this post, you might also enjoy some of these posts too!:
These are all of the best ways I used for saving money practically in college, but I'd love to know if you have any advice on this subject. In the comments, let us know some of the ways that you save money! We can all learn from each other! 🙂